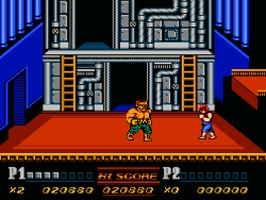 New gear, Double Dragon 2 cover !
April 2, 2010
It's been a while now since I started thinking about recording guitars in a more realistic fashion, and although I already had mics and a preamp to play with, I had not found proper settings to produce songs with them... until a month ago.
So, the song I've been working on in March is a cover of the title screen theme from Double Dragon 2 on NES. I have not played much the game since I only borrowed it from a friend, way back, but its soundtrack is such a great classic !
Let me introduce "Call Out The Dragon". Guitars were taken in stereo mic recording, so the tone is a bit different to what I was used to mix, but it all sounds clearer than before. As usual, a backing track and a MP3 version are available as well. Have fun !