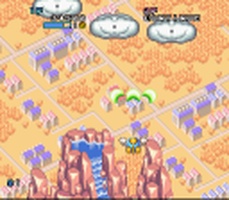 Rock'n Twinbee, Ground Split
Jan. 7, 2008
This is my entry for the Dwelling of Duels, December 2007. And this is a new track for the Pop'n Twinbee covering album that has been in the works since 2004 (!). It's called "Ground Split" (NL version).
The theme being covered here is the one taken from the 6th level of the game. This is perhaps one of my favorites in any game I've played. In this level, the bees fly over a deep gorge, with cool parallax scrolling. That's where the title came from.
Anyway, only one song left until the album is finished. At least, now we have the 7 levels all done !
On a side note, I would like to thank Gustav XIII for donating a bit. Thanks a lot, I really appreciate it !
I wish you all a happy 2008 !