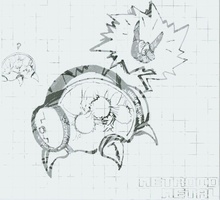 Metroid Metal is 10 years old !
April 18, 2013
Happy 10 years Metroid Metal ! The project has gone such a long way since the very first track was released back in 2003, and Stemage's metal reinterpretations of the series' soundtrack have always been among my very favorites. If you're not familiar with his work and are into this genre, you don't want to miss that.
Anyway, when my friend Wild_Cat mentioned the idea of joining a common effort to pay a great tribute to Metroid Metal for the 10-years anniversary that was coming up, I obviously said yes, even though I was already way too much booked over other projects !
The result is a collab' cover of "Ending", the MM arrangement of the ending theme from the very first game from the series, Metroid on NES. We called it "Supernova". And you can listen to the tribute album here.