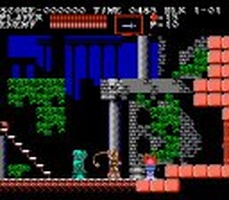 Until Day Break / Updates
Dec. 25, 2007
Merry Christmas to everybody ! A few months with no release at all. This is what trying to record proper vocals for an original song takes... Ok so I've got a couple things to say today.
First, you may have noticed a few updates on the site. I removed the Pictures section that I won't be using any more, and changed a bit the front page, so that the news are listed in another section.
Then, and sorry for the wait, this is the release of "Until Day Break". Grab the NL version if you want. That's the song from the Dwelling of Duels, October 2007, you may have heard it already. It's a cover of the "Evergreen" and "Vampire Killer" themes from Castlevania 3 (NES).
Finally, I've made my mind about bringing to the site a donation option. Of course, it's completely up to you to use it or not. It's something I've been thinking of lately. For more information about it, please go to the donation page.
Well, that's all for today. I may be back by the New Year for a little something... See you soon !