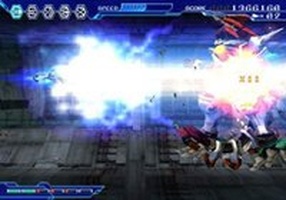 At last, the final version of Far Beyond Heavens !
July 28, 2011
Oh yes this one has been long to come out ! The whole story is that I started working on this song a few months ago and submitted it to the monthly Dwelling of Duels competition, in April 2011. It ranked 2nd place, although it was only a roughly mixed, temporary track. Because of a new neighborhood context, way less favorable for loud mic'd guitar recording, I had to get my hands on new hardware, with up to date capabilities in amp modeling.
But now the wait is over. Here it is for you to enjoy, "Far Beyond Heavens" (NL version). It covers two of the greatest themes featured by the soundtracks of the Thunder Force series, parts 2 and 3 of "The Justice Ray".
On a side note, I've released a simple album cover art for anybody who needs to keep music well organized in software of their choice. You can find it on the music page.
The next song will be released very soon, in early August ! It will be something pretty big, covering the soundtrack from another great game series. Stay tuned !