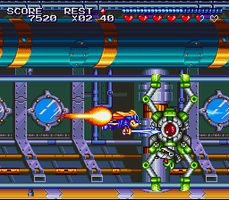 Sparkster : Trinity Rush
Jan. 7, 2013
Happy new year everyone !
For me, 2012 was dedicated to original music. I spent most of my time working on soundtracks, and only one of them is out so far. I look forward to letting you hear more, as soon as I can.
Still, during the end of last year, Wild_Cat, Hattori Hanzo and myself worked together on an arrangement of the "Shooting" theme from Sparkster (SNES). Wild_Cat came up with a draft of the song, that we improved together, before recording each of our parts separately. I mixed the whole thing in the end and we submitted it to MAGFest 2013 Dwelling of Duels, where it placed 4th.
Wild_Cat is the former bassist of my local band Shadow Broker, and Hattori Hanzo is none other than the other guitarist of the band, who makes here his very debut in the video game music arrangement scene !
Enjoy "Trinity Rush" !