Back to home page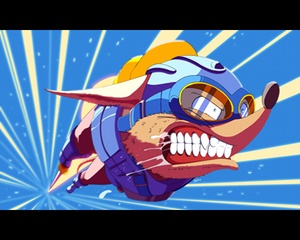 Trinity Rush
| | |
| --- | --- |
| Release date | Jan. 7, 2013 |
| Duration | 3:54 |
| Source material | Sparkster (SNES) - Shooting |
This is a rock arrangement made by Wild_Cat, Hattori Hanzo and myself for MAGFest 2013 Dwelling of Duels, where it scored a very honorable 4th place. It covers "Shooting", taken from the soundtrack of Sparkster (SNES), by Konami. Its original composers are Kazuhiko Uehara, Masahiro Ikariko, M. Matsuhira, Michiru Yamane and Akira Yamaoka.
Incredible comic-like artwork by HeavyMetalHanzo, you can visit his DeviantArt gallery here.
Wild_Cat is the bassist for the famous French video game music cover band, "GrosPixels", as well as the ex-bassist of my local band "Shadow Broker". He's the one who came up with most of the arrangement and performed the bass all along the song.
Introducing Hattori Hanzo, who's none other than the other guitarist from my local band. He performed most of the leads in the song and makes here his debut as a metal video game arranger !
Important : unless expressed otherwise, this work is based on music originally written by other people, and therefore I claim absolutely NO copyright on it. The original composers are listed in this file's audio tags. This work is only a tribute made by a fan, for other fans. Share it for free.
Download / OGG / MP3