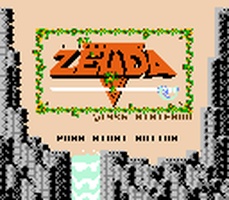 And yet another Zelda song
May 1, 2008
At last. One week of vacation, and a new song is out. Well it's not completely new since it uses directions already taken in "Excalibur's Awakening", but with the means I have today. On top of that, the dungeon theme is being covered as well in there and makes a cool interlude in the middle of the song.
So this one is called "Sword Of Hope" (NL version). I made it using a new guitar, that I don't have mastered yet : an Ibanez RGR320EX.
Also, a new section has been added to the site for the generous donators who offered a few pennies to support me : the special page. It features unreleased stuff or easter eggs. See the donation page for more information.
Big thanks go to those kind people who have donated since January, namely the samareaye, lanez, ctbx, Chris The Highlander, La Boulette and iby.