Back to home page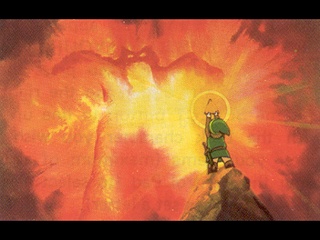 Sword Of Hope
| | |
| --- | --- |
| Release date | May 1, 2008 |
| Duration | 3:52 |
| Source material | The Legend Of Zelda (NES) - Main theme |
This is my arrangement of the main theme and the dungeon one from The Legend of Zelda (NES), originally composed by Koji Kondo. All instruments are played and recorded by me, except the drums that I programmed and rendered with Drumkit From Hell 2 and Natural Studio Kit 7, and choir vocals that are programmed as well, and rendered using a free SF2 soundfont.
I tried to make the transition between both themes as natural as possible, and chose a galloping rhythm for my main theme interpretation. So the way the melody is played is a bit twisted. Choir vocals help in making the opening stronger, and the dungeon theme more desperate. It's the first song where I use slight whammy bar effects (I'm not much used to it). I had just got an Ibanez RGR320EX, and fooled around with it.
Important : unless expressed otherwise, this work is based on music originally written by other people, and therefore I claim absolutely NO copyright on it. The original composers are listed in this file's audio tags. This work is only a tribute made by a fan, for other fans. Share it for free.
Download / OGG / MP3