Back to home page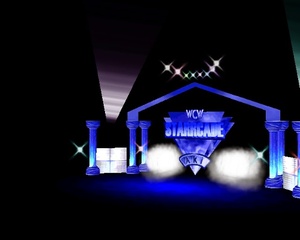 Arcade Of The Stars
| | |
| --- | --- |
| Release date | Sept. 29, 2016 |
| Duration | 3:55 |
| Source material | WCW/nWo Revenge (N64) - Starrcade theme |
This is an 80s synth-rock arrangement of the Starrcade theme from WCW/nWo Revenge, an hilarious wrestling game on N64 - and one of my contribution to the massive 87 tracks "Tribute Album 64", a compilation put together by many musicians to celebrate the 20th anniversary of the N64.
This track had been in my own bingo list for years, pretty much since the time I played the game during my late teen years. I used to find it totally hilarious when played with 3 friends, and for long fights, to select the stage with my favorite music. With this upcoming N64 Tribute Album, the time to cover obscure sources like this one had come, so I got onto it, and contacted Matheus so that he could join the effort like I did for him on 'Sound Waves', last year's Ecco The Dolphin tribute compilation. He took care of the bass and the guitar solo in the middle of the song.
Mastering by Viking Guitar
Important : unless expressed otherwise, this work is based on music originally written by other people, and therefore I claim absolutely NO copyright on it. The original composers are listed in this file's audio tags. This work is only a tribute made by a fan, for other fans. Share it for free.
Download / OGG / MP3