Back to home page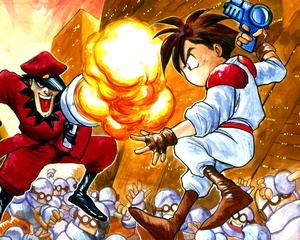 Dwelling Of Heroes
| | |
| --- | --- |
| Release date | Nov. 1, 2013 |
| Duration | 7:07 |
| Source material | Gunstar Heroes (Sega Genesis) - Medley |
This is an arrangement by myself and my bassist friend Wild_Cat, featuring 4 themes chosen from the Gunstar Heroes (Sega Genesis) soundtrack, originally composed by Norio Hanzawa for Treasure : "The End of Battle - To Out World", "Last Party on the Moon", "Empire - The Final Assault" and finally "The Legend of Gunstars".
I put this song together in celebration of the 10th Anniversary of the Dwelling Of Duels, in October 2013, hence the reference in the title. It scored 3rd place, within an amazing bunch of 53 entries, that was a memorable event, and Wild_Cat and I are proud that we could be part of it.
The entire arrangement is a tribute to 10 years of live video game music celebration (I for myself have been a regular entrant for 9 years), filled with hard work and fun. From the very core, it's designed to tell, in a very embellished way, what happens in one given occurrence of this contest.
Part 1 - 0:00 : Unknown musicians from all over the world gather in a single place.
Part 2 - 1:55 : Together, they celebrate video game music, and have a lot of fun playing it live.
Part 3 - 3:51 : But it soon turns into epic battle, because these people are very strong at what they do.
Part 4 - 5:25 : In the aftermath, they congratulate each other, and leave behind them amazing music for all to enjoy.
Important : unless expressed otherwise, this work is based on music originally written by other people, and therefore I claim absolutely NO copyright on it. The original composers are listed in this file's audio tags. This work is only a tribute made by a fan, for other fans. Share it for free.
Download / OGG / MP3