Back to home page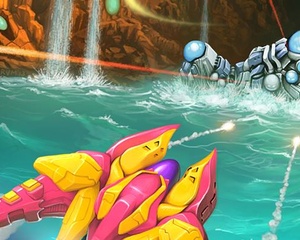 One Ship To Lead Them All
| | |
| --- | --- |
| Release date | July 19, 2014 |
| Duration | 3:27 |
| Source material | DUX 1.0/1.5 (Sega Dreamcast) - Stage 4 theme |
This an experimental 80's rock arrangement of the "Purple Spaces" stage theme from DUX, an indie sidescrolling shooter for the Sega Dreamcast, developed by Hucast and Kontechs.
My silly idea here was to arrange the music from the game in a 80s anime opening style with fake drums, synth bass, 80s-ish guitar tone.
If you have a Dreamcast and would like to play the game, it can be purchased on Hucast's site here.
Important : unless expressed otherwise, this work is based on music originally written by other people, and therefore I claim absolutely NO copyright on it. The original composers are listed in this file's audio tags. This work is only a tribute made by a fan, for other fans. Share it for free.
Download / OGG / MP3