Back to home page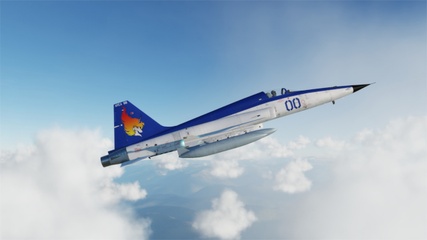 Running On Fumes
| | |
| --- | --- |
| Release date | Dec. 11, 2020 |
| Duration | 2:16 |
| Source material | Area 88/U.N. Squadron - Front Line Base |
This is a fast-paced punk twist on the Front Line Base theme from U.N. Squadron (SNES) and Area 88 (Arcade), originally composed by Manami Matsumae and Takashi Tateishi for Capcom. I didn't have the chance to play this game back in the 90s, and it's truly a shame as it was probably one of the very best shmups on SNES in my opinion. I'm a big fan of the Area 88 anime.
The image featured for this track is a DCS screenshot of a skin made by user "carss" for Shin Kazama's emblematic F-5E aircraft.
Important : unless expressed otherwise, this work is based on music originally written by other people, and therefore I claim absolutely NO copyright on it. The original composers are listed in this file's audio tags. This work is only a tribute made by a fan, for other fans. Share it for free.
Download / OGG / MP3