Back to home page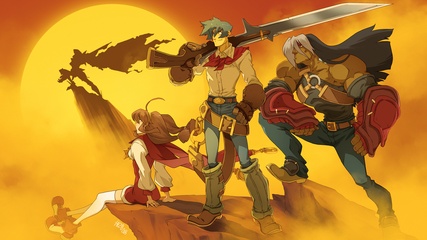 Trailblazers
| | |
| --- | --- |
| Release date | July 23, 2016 |
| Duration | 3:09 |
| Source material | Wild Arms 2 (PS1) - Intro theme |
This is a rock arrangement of the intro theme from Wild Arms 2 on Sony PlayStation, originally composed by Michiko Naruke. It was suggested to me by my artist friend Heavy Metal Hanzo, who told me it certainly had the heroic vibe I'm always looking for in video game songs, and indeed it had ! The featured artwork is actually a commission I asked from him for the piece.
Also featured here, my regular session bassist and friend Maxime "Wild_Cat" Noël, who was as usual kind enough to send me bass recordings across the Atlantic Ocean !
Important : unless expressed otherwise, this work is based on music originally written by other people, and therefore I claim absolutely NO copyright on it. The original composers are listed in this file's audio tags. This work is only a tribute made by a fan, for other fans. Share it for free.
Download / OGG / MP3