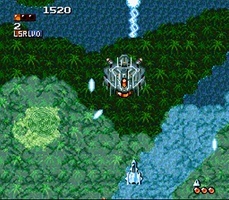 Super Aleste track released / Updates
Oct. 2, 2010
Hi all ! Summer was productive this year, although I spent most of my days off far from home and also far from any musical instrument. Today after entering the Dwelling of Duels contest (which has a brand new site by the way) with it, I can finally release a track covering the Asteroid Belt theme from the soundtrack of Super Aleste (also known as Space Megaforce) shooter on SNES. You can either listen to it on Youtube, or get it here. The title is "Starshine On The Rocks" (NL Version).
The artist who made this great artwork featured by the video is Orioto. Don't you think it looks like images from the game have almost become real ? Check out his other video game "remixes" in his DeviantArt gallery !
It's also time to release two new tabs files for older songs :
Finally, I took the chance of updating a bit the about and FAQ pages, because some time has passed and some things in there had reached the expiry date. Feel free to have a look around.
Get ready : the next song will cover something from Super Mario Galaxy 2 !